We first saw our new land in Spain last June 2016 and committed to buy in August. The sale was finally completed just before Christmas 2016.
The reason for the gap was due to our cautious nature when acquiring property. First, we we needed to check for clean title (the escritura or deeds) to ensure that the people selling us the land actually owned it and that there aren't any outstanding loans, mortgages or guarantees against it. Then we wanted written confirmation from the local council that we had a licencia or permit to live in on the land. As there had been a house there for a couple of hundred years with a proper set of deeds that was straightforward, but worth doing. Spain is notorious for this sort of thing as many people have found out to their cost.
Then we wanted a permit to connect to the local water cisterna, drill a bore hole and build a swimming pool.
We also ensured that there was a tax value and registration for the existing house.
Finally, we commissioned a full survey of the ruined house and a levels survey of the immediate land around it to help with planning the new house and to be attached to the deeds to ensure that there was a record of the existing property on file.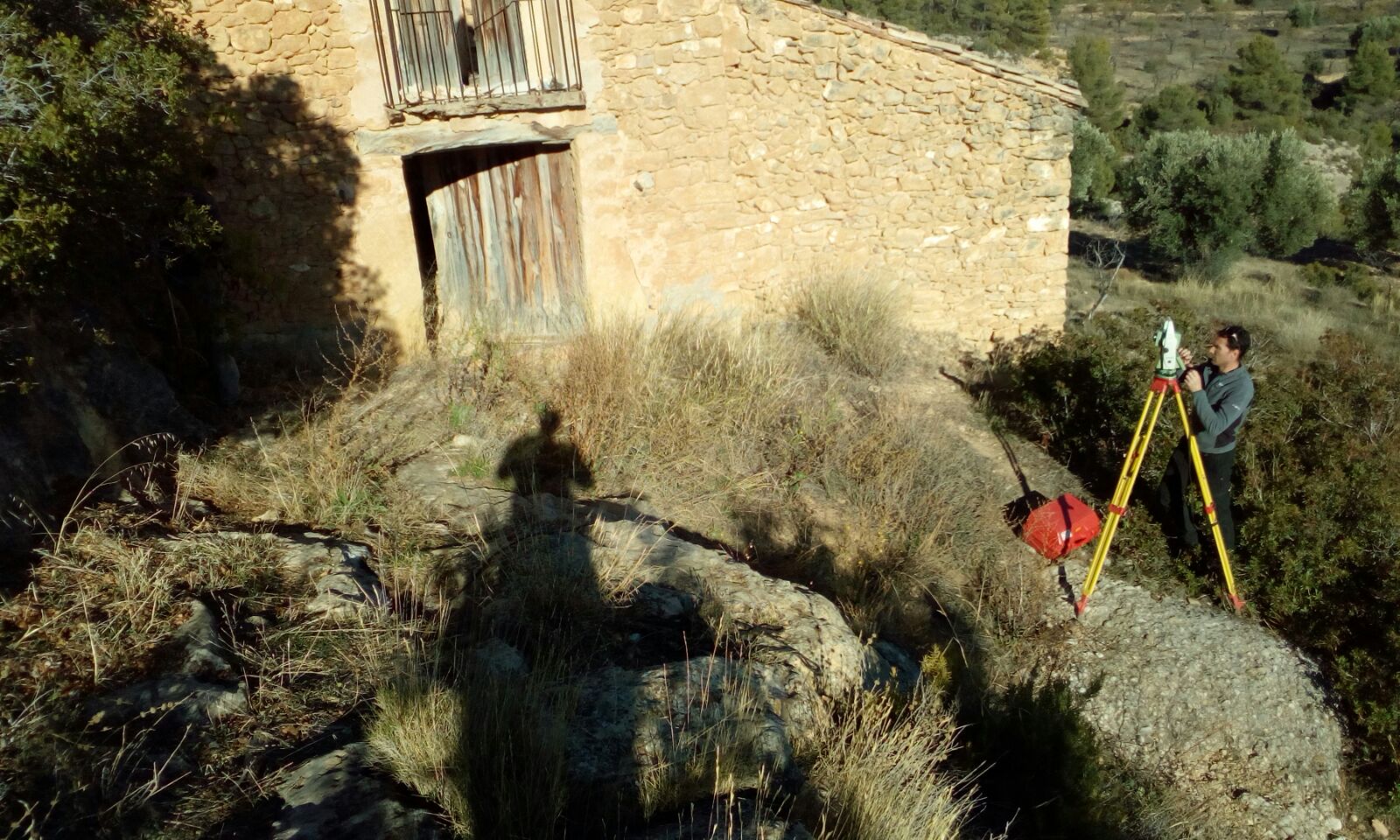 Last but not least, NIEs needed to be obtained from the police station in Alcaniz. This an ID number for foreigners which you need for everything in Spain.
Once all of the above were in place, the sale went ahead. We are the ones with the big smiles on our faces on the left.
The next stage was to demolish the old house and sort all of the materials ready for the new build. Just to be on the safe side, we went to the excellent local mayor in Rafales and obtained a license to demolish. I think that this was a really useful 60 euros to spend!
So, the timetable is as follows :-
February. Demolish old house
March. Draw up and submit plans for a garage /workshop, solar system and septic tank
End of April. Submit plans for Main house
March to July. Build up solar system in the UK to take to Spain
June /July. Build garage/workshop , septic tank and concrete base for solar panels
Late July. Install solar power system
August. Helen, Aidan, 6 chihuahuas and 2 Irish wolfhounds arrive for two months, living in the workshop!
Late September. Start house build.
Well, numbers 1 & 2 are done. So far, so good. The first draft of the main house plans are done
So, here is the first draft of the house:-
This level has the main front door, the lounge, kitchen, dining area, my office, a family suite for if we have visitors with young children and the courtyard with a plunge pool.
The upper level has our bedroom with a gallery above the main living room to access it, plus a sun terrace off ourbedroom
Finally, the lower level has three more guest bedrooms plus a large but essential, wine cellar
To make sense of the plans, you need to realise that the house is built over the edge of the terrain, following the footprint of the original building