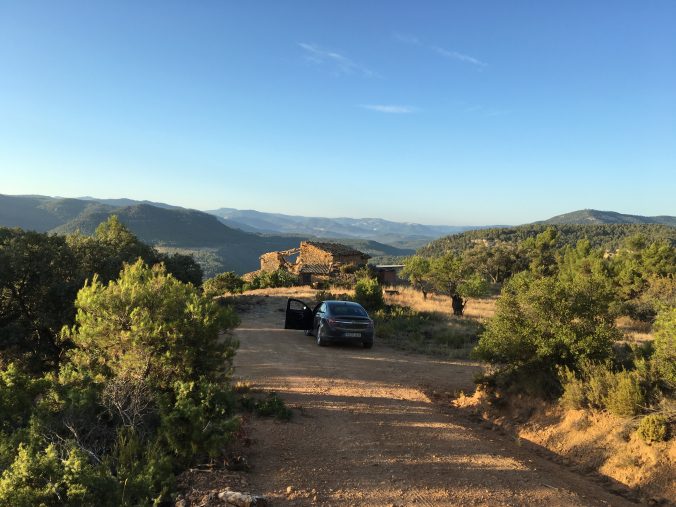 Why Matarranya?
We are Helen and Aidan Ruff, a couple from Northumberland in the north of England and we have owned a holiday property in the South of France for many years whilst our kids were growing up.Much as we enjoyed France,  rising costs, taxes and burocracy made it less pleasant. So, we upped sticks and bought a tract of land of over 100 Acres in the wonderful county of Matarranya in the mountains of Aragon in Spain.
I have nicknamed Matarranya the "Spanish Shangri-la" as it is a beautiful, magical kingdom hidden in the mountains, with relatively few visitors.Some of our friends in France have affectionately, but with just a soupcon of mockery, nicknamed our new project "Casa Benidorm"! Yes, Dave, I'm talking about you. However, the area speaks to our desire for a bit of wildness and as we are about 4km from the nearest village, we get the isolation that we also enjoy back in the UK.
We loved Provence, but Matarranya is the Spanish version and is often compared favorably with both Provence and Tuscany. It's only about 900km2 in area, surrounded by mountains and at 700m+ above sea level, has a more pleasant climate than coastal areas.  Around 9000 people live in the area, so the population density is actually the lowest in Europe… Plus the odd wild ibex.
I am an electronics design engineer by profession and gadgeteer by inclination (see www.omegaman.net), We also build and renovate houses, so taking another big project on in a new country holds no fear for us. I just know that I'm going to regret that statement, of course.
The abiding principle that we wanted to follow was to be as off-grid as possible (rising energy prices, zombie invasion, etc) and this is fortunate as much of rural Spain has no infrastructure to speak of. However, this suited us down to the ground and it also means that property and land in the area are dirt cheap. The land that we now own contained a large, 7000 square feet (700m2) ruined farmhouse placed very centrally in its' land, which is unusual for the area as most rural properties, for reasons of access, tend to be on the edge of a public road or, more likely,  a dirt track.
The ruin is about a kilometer down its own track and was stone built. This going to provide us with much of the building material for the new one, saving costs, saving transport and in a very small way is part of the effort to save the planet. This will not be a hair-shirt project, however! We are aiming for a luxurious house in a glorious setting.

I have long thought that all you need for a house is power and water and the rest is just chemistry. So, I am designing a 24KW power system, with 16KW of self adjusting panels, 60KW of batteries and a backup generator just in case. Water is from a private bore hole, though we do have the cheaper option of tapping into a public borehole-fed water tank or cisterna about a mile and a half away. This is currently only used by one other property so there should always be water available. There will be a backup tank, of course, which will double as a break-pressure tank due to the difference  in elevation of the house and cisterns. We'd end up with 6 bar of water pressure which would blow the taps off in the house if we just used the water directly. Depending upon the content of the water, I'm planning on using some nano filters to provide drinking water, just like in the wonderful LifeSaver bottles we use when trekking around the world.
I'll write a lot about the power system as this is key to the whole project. Every other offgrid property that we've seen in Spain is heated by either gas or wood in the winter and where they do have air-conditioning  its normally just the standard "split" system with an outdoor heat exchanger and indoor cooling units, which I'm not keen on.

We are going to fit underfloor heating and cooling driven by two highly efficient heat pumps. The house will be massively insulated to keep the power requirements down, so we can heat the floors in the winter and cool them in the summer. Hot water is going to be generated by another heat pump as it's cheaper and less visually intrusive than a normal solar thermal system. We'll also have a backup immersion heater to raise the water temperature at least once a week above the maximum of 60 degrees that the heat pumps can give which will kill any bacterial infections as well. I'm planning two large hot water tanks so that if there's  any spare power during the day I can dump it into the tanks using the immersion heaters.

Raspberry Pie

No, not a tasty pudding, but a really inexpensive Linux computer with many even cheaper derivatives on the market. I intend using two of these to control the energy and lighting systems. One will be the main unit and the second well be a backup (that's one of my nicknames – Mr Backup!)

My pal Pete and I have been developing a range of Internet of Things (IOT) devices for the last few years so I'm putting some of that expertise into practice in our new house. Have a look at www.hackittandbodgitt.com if you are interested in any of our tek adventures.
A lot of the technology that I want to use either doesn't exist for domestic installations and is therefore ridiculously expensive professional or industrial equipment or doesn't do exactly what I want. So, I'm designing a number of things from scratch. See other blog sections for details
Have a look at my Solar Tracking project on Hackaday